Gary A. Aisenbrey
M.D. FACOG
As a board-¬certified obstetrician-gynecologist with certification in maternal-¬fetal medicine, it has been my pleasure to provide special care for women during their pregnancies. Evaluating difficult pregnancies and formulating a compassionate, well-researched treatment plan is a true privilege. There's no greater personal reward than working together to achieve the best possible outcome for you and your baby.
At Perinatal Associates of New Mexico you can expect the most comprehensive evaluation and care. Our practice has four maternal-¬fetal medicine specialists that bring more than 75 collective years of experience addressing obstetric problems.
We provide thorough care in the office, but because patients may develop problems that require hospitalization, our doctors are always available at the hospital any hour of any day. In these cases, we work with the doctors in the newborn intensive care unit and other pediatric areas to develop the best plan of care.
In my spare time I enjoy bicycling, skiing, and music. I'm also a true animal lover who enjoys spending time with my horses, dogs, cat, and parrot.
I look forward to meeting you and helping you have the smoothest, most rewarding pregnancy possible.
Sincerely,
Gary A. Aisenbrey, MD
---
MEDICAL SCHOOL
University of Colorado
Denver, CO 1982
INTERNSHIP
University of New Mexico School of Medicine
Department of Obstetrics & Gynecology
Albuquerque, New Mexico 1984
RESIDENCY
University of New Mexico School of Medicine
Department of Obstetrics & Gynecology
Albuquerque, New Mexico 1986
FELLOWSHIP
University of New Mexico School of Medicine
Department of Obstetrics & Gynecology
Division of Maternal-Fetal Medicine
Albuquerque, New Mexico 1988
BOARD CERTIFICATION
American Board of Obstetrics & Gynecology, Diplomate 1990
American Board of Obstetrics & Gynecology, Diplomate Maternal-Fetal Medicine 1991
PROFESSIONAL LICENSE
New Mexico Board of Medical Examiners 1982
National Board of Medical Examiners, Diplomate 1982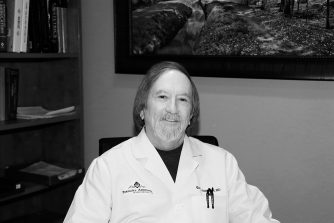 Our Doctors
Our Clinical Team
Midwives, PANM APN
Genetic Counselors
Diabetic Educators
Our Management Team